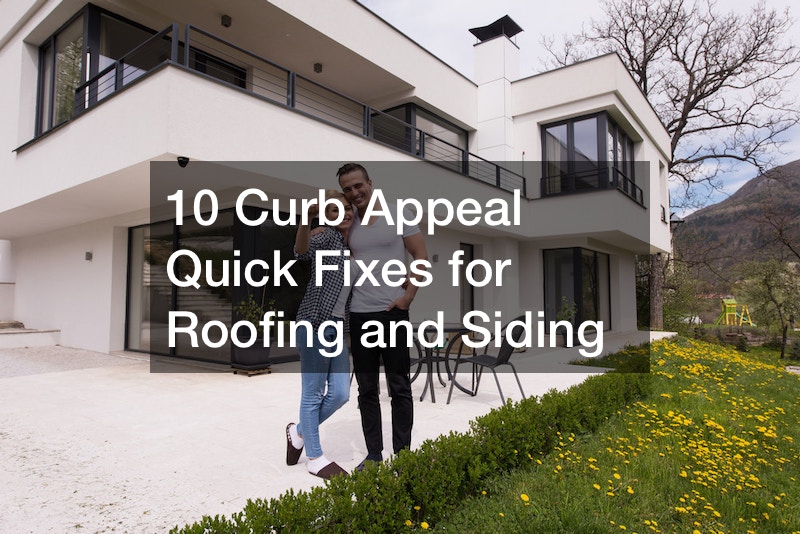 10 Curb Appeal Quick Fixes for Roofing and Siding
When it comes to excellent curb appeal, one cannot deny perfectly trimmed lawns, expertly landscaped gardens, paved driveways, and grand driveway gates to greet you as you enter or walk by, looking in admiration. It just goes to show some curb appeal quick fixes are just what any home or property needs to get back into the game. Not to mention, if you do have some tweaks done to make your property look more appealing, the right ones can also help increase your home's value. In the case of a commercial property, the same applies, as many people are attracted to good-looking entrances that are welcoming.
In today's article, we discuss some well-needed curb appeal quick fixes that you could do for your home or commercial property. These pointers are handy and could add to your long-term ROI when you decide to sell later. Get ready as we delve into these top tips right here and right now.
1. Prioritize Home Inspection Items
One of the fastest ways you can ensure that you increase your home's curb appeal is when you focus on the points that inspectors check. A house appraisal company will consider certain factors that determine whether the home is in selling condition.
Inspect the foundation of the home. Damaged foundations could risk the structural integrity of the building and the safety of the inhabitants.
Get the leaks out of the way – Check that all the plumbing is in good order and things like septic tanks are all working without any leakage. Leaks cause water damage, and this causes more issues such as mold, which can risk the health and well-being of the persons living there.
Is the crawl space big enough for plumbing? Check that the crawl space is big enough to work with plumbing issues because if it isn't, it makes the plumber's job harder and some jobs impossible.
Check that the drainage works well since standing water not only causes issues like mosquitos to breed in certain regions but can also cause mold or moss to develop. Water drainage must be efficient, including the roll-off from the roof into the gutters and other piping.
Saggy exterior walls are a huge problem and a red flag that the foundation and the rest of the property's grounds might be caving in. Take steps to have this fixed and secured.
In addition to the points mentioned in this first curb appeal quick fixes, also check the following:
If the interior spaces are insulated properly, check HVAC functions.
If there are cracks in the fireplace.
The electrical aspects.
Smoke and other detectors
Window frames are intact.
Roof shingles are in order, with none of them missing or breaking.
Chimneys undamaged.
Before selling your home, you can ask the house appraisal company for a snag list or checklist, as this is also crucial if you're planning on selling your property and simply to have all aspects checked even if you're continuing to live there. After all, you'll benefit from it while you stay
2. Work With the Best Local Roofers
The roof is one of the main aspects of any building as it keeps out the elements, and as a bonus, a good-looking roof adds excellent curb appeal. Curb appeal quick fixes include ensuring that the roof is in good condition and that the shingles are fine. With time, wear and tear can lead to leaks and other issues when it isn't taken care of promptly. You can work with the best roofer company in your local area to get quality workmanship and value for your money. Professional roofers can also help you choose the suitable materials for your roof that best suit the region's weather patterns, and they can help you with any queries you have about roofs and getting it to increase the curb appeal of your home.
3. Replace Your Home's Gutter System
Another one of the many curb appeal quick fixes includes taking care of your property's gutters. Its critical to replace the gutter systems because leaking can start from there and spiral into streaks of dirty water marks running down the walls. Not only are the unsightly water marks annoying, but there is also a chance of moss and mold developing if there are damaged gutters. This is bad news if you want to make your home look pretty and special for the onlookers who may potentially buy your place someday. A plumber can help you get all gutters replaced, and where the damage isn't too detrimental, they may be able to replace sections. Roof plumbers are also available from professional roofers who tackle these intricate issues.
4. Consider a Full Roof Replacement
It may sound massively expensive to have your whole roof replaced but it is one of the best investments to make on any property. Some statistics suggest homeowners can make nearly 60% back in ROI when they have their roof replaced. Your local roofing contractor can help you decide what will best suit your property, for instance, asphalt shingles might be a bit more expensive, but they are long-lasting and available in a variety of color options. The professional roofers will also tell you what works best for flat roofs or sloped or any other roof shape and design.
5. Upgrade to Eco-Friendly Metal Roofing
Metal roofs tend to be more environmentally friendly because they are produced with recycled materials. While recycling is ideal, you can also benefit from a metal eco roof because they are low maintenance and can be recycled again after it's been retired from use. Metal roofs are good at keeping your home cool because it reflects heat away from the house. Furthermore, with less heat filtering through, you're able to save on your electricity bills during summer with the reduced use of air conditioning. Get in touch with expert metal roofers to help you install a more eco-friendly metal roof for your home or commercial property.
Besides a metal eco-roof, you can go for a grass roof made from actual grass. There are many benefits to having an eco-friendly roof over a regular one. In some places, these eco-roofs are known as "green roofs", "sod roofs," or "turf roofs" and are unique in many ways. Firstly, grass roofs are lovely for the environment because they provide a place for the little creatures and create food for birds too. They also significantly reduce the harsher temperatures from the sun and creates more shade. In summer, this is ideal as it keeps your home cooler without having to resort to using the AC as frequently. Since natural grass is used in the installation of these green roofs, they allow excellent water buffing and cleans the air you breathe
6. Handle All Necessary Roofing Repairs
Whether you're looking to sell your home or simply get more out of it, take the opportunity to fix any issues related to your roof. Curb appeal quick fixes are usually things that people can see from the curb, hence the name. In this case, your roof, especially a slanted or pitched roof, tends to be highly visible from the curb; if it is old and worn, it really does reflect a negative image. One may even mistake a house with an old, neglected roof for a building that could be falling apart when that may not be true. The roof is a separate entity to the rest of the home, but still forms part of the important structuring. Fixing all issues with the roof in some cases replacing roof shingles that are damaged, can already make a huge difference. Roof repairs are a good investment for your property.
7. Get Your Roof Professionally Cleaned
Cleaning the roof can also minimize on costs while being the perfect curb appeal quick fixes that won't cost you an arm or a leg. If you think about it, the roof is something that has been around for a long time and is a very old part of the building. Sometimes, there is nothing wrong with the roof, and it is simply grimy and dirty from the many years of standing strong. A professional company can help with power washing options, and if you are versed in DIY, you may consider doing it yourself. Still, hiring professionals adds peace of mind regarding the safety and using the correct equipment for the job.
8. Install New Siding
Another highlight in curb appeal quick fixes is installing siding. Yes, there are few things as gorgeous as some good siding. Take shiplap, for instance; this tends to give a carefree contemporary vibe of beach living or even country homes. There are many materials, each offering different durability and weather resistance levels. Some metal supplies can assist you with metal siding if that's the look you're going for. Some off-the-grid homes use metal materials as part of the sustainable setup.
9. Upgrade to a Brick Façade
If you've always had a painted brick home, why not try changing it for a brick façade? The thing with exposed bricks is that they are low maintenance, and they look modern, especially when only featured as a façade. This is another affordable curb appeal quick fixes that will attract the right eyes to your home. With masonry services, you'll get the right help to complete this project.
10. Get Your Siding Professionally Cleaned
If you've already got some great-looking siding in place, and you're happy and don't need it replaced or anything, then perhaps a thorough cleaning is in order. Pressure cleaning services have helped many homeowners to clean their property's exterior walls without having to repaint or dock out extra money in this manner. Sometimes the siding is just dirty and needs a good cleaning. Take before and after photos and see how this curb appeal quick fixes technique has drastically improved the look of your property.
What Are The Advantages Of Curb Appeal Quick Fixes For Your Property?
Curb appeal is even more crucial to properties than you can imagine, and because it is one of the first things people see when approaching your home or business, it is essential that it looks fantastic. There are many advantages to having excellent curb appeal.
Curb appeal advantages to consider:
It increases the value of your property
A beautiful curb appeal attracts more potential buyers. So, without a blade of grass out of place or broken paving and rusty gates to be an eye sore, people will be attracted to the beauty of your beautiful home by just seeing the entrance. You can thus sell your property for more and earn double and triple what you've spent, making the front look beautiful.
It Makes selling your property easier
An unkempt yard can look off-putting, and thus it can deter any potential buyers. With the curb neat and tidy leading to your driveway, you can be certain to attract more people, viewers, and potential buyers. There's just something about a beautiful home that gives the sense of "come live here" or "here is a good place to hang my hat and start my family"
It improves the chances of a better first impression
First impressions last, and this is true for most things in life, even the curb appeal of your home. For instance, a neat home with a wonderful yard is much more impressionable on a positive note. On the contrary, when comparing one with grass growing wild and unpruned trees and overgrown weeds, it leaves a bad memory in the viewer's head about the place. It can even deter a potential buyer as what they would see is having to do work before getting the opportunity to move into their home.
The Takeaway
A home ready to move in is always much nicer and better for purchase than one with TLC requirements. Get your home ready with these excellent curb appeal tips, increase your property's value, and enjoy a better-looking outdoors.